About Our Jobs
Our web listed jobs represent a small sample of the hundreds of actuarial opportunities currently in our database. Each posit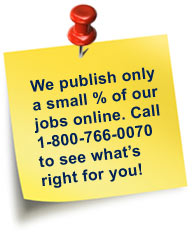 ion is an existing job opening with one of our client companies — not a generic job description.
We update our database continuously.
A few caveats:
The job opportunities are as up-to-date as possible. Our proprietary database will always be more current.
At the request of many actuaries, salary ranges are quoted for the positions. They only represent a range that the hiring companies have targeted for a specific position. Total compensation packages tend to be individually tailored to match the credentials, experience and requirements of the individual. Quite often, positions can be upgraded for highly qualified candidates.
If specific locations are not desirable, we will find similar opportunities to satisfy geographic criteria.
Please contact us for details. Or, if you prefer, check the box adjacent to the job description, and we will contact you on the next business day. All responses are confidentially delivered to Aimee Kaye.
GET JOBS BY E-MAIL, THE MOMENT THEY ARE PUBLISHED!
With this feature you can receive email notifications with the latest jobs that match your pre-specified criteria the moment they are added into our database. Click here to fill out our form and outline your criteria and specifications to subscribe to this program. The email you will receive will allow you to modify your criteria or opt-out of your program at anytime.